Help For An Auto Accident Injury In Santa Ana California
Car Accident Injury Attorney In Santa Ana California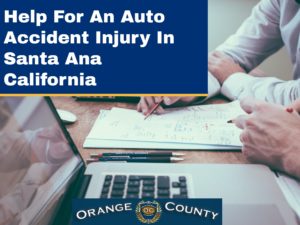 If you have been hurt in an auto, car, truck, motorcycle or other type of motor vehicle accident, it is always safe to consult with an experienced personal injury lawyer immediately. Maybe you were a pedestrian when you were struck by a reckless driver who was not watching where they were going? Or just driving along your way when all of a sudden you were rear ended for no reason? No matter what your particular set of circumstances, if you believe the collision was the fault of someone else, you may be entitled to monetary compensation against that other person and/or their insurance company. This is why you should pick up the phone and get a free legal consultation directly from experienced auto accident injury attorney. Our office is is available to you when you call us at 1 (714) 265-7526.
Why Get Help From A Santa Ana Auto Accident Lawyer
When you have been injured due to the negligence of another person out on the road, that other person's insurance company will be who you have to deal with to get your car fixed and medical expenses paid for. If you are so inclined, you will also be looking for compensation for your pain and suffering. The issue is that these insurance companies want to pay you as little money as possible. The car insurance company is in the business of making money. That means charging premiums for policies and NOT paying out money on claims. Whether or not the insurance adjuster or agent is nice to you is immaterial. You need someone looking out for your interests!  Remember, the earlier you retain representation the better. From day one the insurance company is looking to devalue and get your claim as low as possible. That's where we come in. Our attorney is an experienced auto accident injury lawyer in Santa Ana California. He knows the insurance company game and how to fight them.
Call A Santa Ana Auto Accident Injury Lawyer Today!
Do not hesitate to get representation early on in your case. Get Help For An Auto Accident Injury In Santa Ana California! Do not even speak to your insurance company or the other driver's insurance company before you consult with a legal professional who has your best interest in mind. When you call us at 1 (714) 265-7526, we will come to the phone to provide you with a free, confidential, no obligation legal consultation about your case! Or, if you prefer, simply submit a case evaluation form at AutoAccidentLawyerOC.com and we will give you a call that very day! Remember that when you call our experienced accident injury attorney, you get intelligent answer to tough questions with no obligation to hire him before you decide to hire an attorney at all. And, if you do choose to hire our car accident lawyer, you pay nothing up front! All cases are taken on a contingency fee basis, which means that you only pay us once you receive money in your case! Since there is no obligation and no up front fees, there is absolutely no reason not to get experience on your side from day one! We will provide you with solid legal advice, case direction and a strong voice against the insurance company. Get our office on the phone for help today before it is too late! You must have medical documentation of all injuries as soon as possible!
Our law office serves all of Orange County, Santa Ana, Anaheim, Orange and surrounding cities! We know Orange County roads! Get Help For An Auto Accident Injury In Santa Ana California! Call us today and you will have the representation you need in no time!