Truck Accident Injury Lawyers Anaheim California
Truck Accident Injury Lawyers Anaheim California.
Collision with a truck while on the road is nothing to joke about. Such motor vehicle collisions can and do cause serious damages and injuries every day in Orange County, California. The seriousness only increases when the truck collision involves a semi-truck at high speed on the freeway. In those situations, emergency medical care and hospitalization is often necessary. In the circumstance where the truck accident results from the negligence of the truck driver, the victim is entitled to file a lawsuit to pursue legal action against the person or entity that was negligent. Victims of such accidents always need to retain the counsel of an experienced truck accident injury lawyer to obtain the best recovery on your claim. So, consult with our office, an experienced truck accident injury firm in Anaheim California. We provide individualized attention to each one of our clients. Call us at 1 (714) 265-7526.
Damages Recoverable For Truck Accident Injury In Anaheim California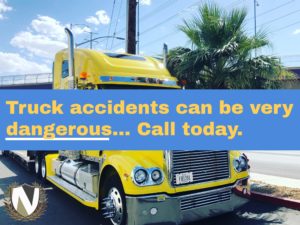 Those injured in motor vehicle collisions will assert damages against the negligent entity. The following are the general types of damages that are recoverable in personal injury cases. The exact type and the amounts will vary depending on the circumstances of each individual case.
Medical Expenses – Compensation for current, ongoing and future medical expenses directly resulting from the injury. This includes all costs relating to hospital care, doctor's care, rehabilitative care, physical therapy, home health aides, required medical equipment, and prescription medications.
Lost Wages – Secondly, compensation for all present and future lost wages due to the injuries suffered.
Pain & Suffering – These damages are for all pain and suffering, including physical pain and mental anguish.
Property Damage – Furthermore, if any personal property has been damaged or destroyed as the result of your collision, monetary compensation will be provided to cover the cost of repair or replacement.
Loss of Consortium – These damages are payable to the spouse of an accident injury victim to compensate for the loss of love, companionship, and affection stemming from the injuries.
Punitive Damages – These damages are available under limited circumstances, and are designed to punish the wrongdoer for their outrageous and egregious conduct.
Get the Help You Deserve From California Truck Accident Injury Lawyers!
We are available to prospective clients for free consultations with absolutely no obligation to hire him to pursue your case. When you call his firm you speak with him directly for free because we know that many people need to obtain some advice before they decide to hire an attorney or decide which one to go with. Therefore, if you are in need of legal counsel about a truck accident injury, you can speak to us by calling 1 (714) 265-7526 or by submitting a case evaluation form at www.AutoAccidentLawyerOC.com.
We provide superb representation and wise legal counsel to its clients involved in motor vehicle collisions, auto collisions, truck collisions, motorcycle crashes, and most other injuries involving vehicles. You are protected to the maximum extent possible when you get strong representation on your side early on! Because of this, get us on the phone for a free legal consultation today! We will start immediately to build your case. He will arrange for medical treatment if necessary.
We are an Anaheim California truck accident injury lawyer. He wants to learn about your case and wants to provide you the individualized attention that you need and deserve. His goal is to obtain the maximum recovery while lowering your stress level through the legal process.  Then you can focus on recovering from your injuries. So, call today and get the process going.